As a seller on Amazon, reviews play an enormous role in your product's success. Positive reviews can skyrocket sales, while negative reviews can push you into the darkest and deepest places of the search results. The problem is you seemingly have no control of these reviews, but that's not entirely true. There are a number of different ways to obtaining positive reviews and reducing or eliminating negative ones.
Up until October of 2016, sellers could provide a discounted or free product in exchange for an honest review. This was within guidelines as long as it was disclosed in the review that the reviewer received compensation. This could be done outside of Amazon, or through some sort of third party, but now it is only allowed through the Amazon Vine Program. While the Vine program works well, it's not cheap. So if you're not able to afford the Vine program, here are some alternative means of obtaining the reviews you need.
Praise the positive reviews
This is easier if you only have a few products, but any time a positive review, typically 4 stars or higher is left, leave a comment thanking them for their review and continued relationship. If any problems are mentioned, no matter how small, address them to the best of your abilities.
If you have a store outside of Amazon, this is a great time to offer a discount on a future purchase. Better yet, ask them to provide their contact info to send it to them. Other reviewers or potential buyers may see this and have a greater incentive to leave a more positive review.
Addressing the Negative
Now to addressing the negatives. Before doing anything, consider the point of view of your customer. They have just spent 'X' amount of money on a product that promised to [Insert your marketing lingo here] and they were let down somewhere along the way. Whether it was through the payment process, shipping, or actual involvement with the product, these issues have to be addressed if you want to have a successful product.
Send an email
This is the absolute easiest thing to do and can prevent a major headache on their end and your end. Within two days of the product being shipped, email the customer thanking them for their purchase and offering any assistance if they have any troubles. The template below is a great place to start.
"John,
My name is Jane from customer relations at ABC Inc. I just wanted to send a quick email thanking you for your recent Amazon purchase. If you have not already received a confirmation email, your purchase should be on its way. If for any reason you run into any troubles, whether with the shipping, packaging, or function of your order, please do not hesitate to contact me at Jane@ABCInc.com. I want to make sure you are 100% satisfied with your experience with us!
Thank you,
Jane"
By reaching out before they receive the package, the idea is they'll already have the idea to contact you directly if they have a problem. This prevents them from going directly to Amazon to complain or instantly leaving a negative review.
Include a packing slip
This goes one step beyond the first point and can be used in conjunction with an email. With this method you'll print out a piece of paper and leave a short note explaining you're there to reach out to in case they have any problems. It doesn't have to be a full sheet and can literally be the size of a post card. No fancy paper needed, simple computer paper will do. The message follows the same lines as the template above and again, seeks to have them contact you before they leave a review on Amazon. Below is a template that can be used on these packing slips.
"Thank you for your purchase from ABC Inc. If you have found everything satisfactory, please be sure to leave us a five-star review on Amazon! If you experienced anything less than a five-star service, please contact Jane at Jane@ABCInc.com and we'll be sure to make it right."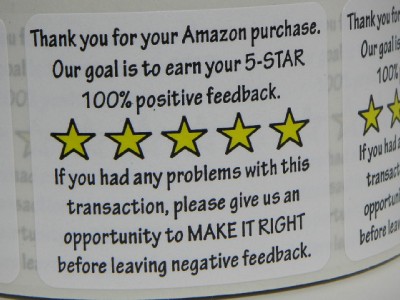 Send an Email, version 2
This method is especially useful if you have a product that takes some time to use before a buyer can truly evaluate it. For example, someone who purchases a drone is going to need significantly more time to evaluate it, than someone who purchased a box of pens.
With this method, you will send an email anywhere from a few weeks to a few months after the customer receives the product. You will need to determine the best time frame for this since it is crucial to send this email once they have become comfortable with the product.
The first template mentioned above should suffice for this email with a few modifications.
Build a CRM System
CRM stands for Customer Relationship Management and while there are various businesses offering their CRM service, you can build one for a lot less. For major companies who have an entire department devoted to graphic design, IT, etc. then this won't be difficult, especially if you have many products. For smaller organizations or single-man operations, a little bit more work will have to be done and may not even be worth it if there are only a few products.

Essentially the basis of this system follows this logic. Customer lands on a specified landing page on your website. On that landing page there are two options, buttons, or something for them to click on. Button 1 – "I had a five-star experience with ABC Inc." or Button 2 – "I had problems with my experience". Button 1 will redirect them to the Amazon review page (or your desired review site) where they can submit a review. Button 2 redirects them to another contact form on your website asking about their experience. This form then sends this information to your email so you can address the problem. If you are interested in setting up something along these lines, please feel free to contact me directly and we can work out some of the project details.
If you haven't already figured it out, achieving positive reviews and reducing the negative ones is all about prevention. It's easier to prevent a negative review than it is to try and remove one later. Not to mention, by having an efficient system and quality product will do better than the majority of tips listed here.
As reasonable as most people are, there are; however, some customers who are just illogical and unreasonable. Sometimes this may be competitors playing dirty, a third-party seller is selling a counterfeit version of your product, or a customer is expecting way too much from the product. Honestly, does a customer really expect a $30 television to have 4K HD quality? Unfortunately, some do; here is how to address them.
Fix the damage and attempt remove it
Here's the scenario, the customer received your product, they've tried it, they're unhappy, and have left a nasty one-star review. If you were going through a divorce, you want as little of it in the public eye as possible. The same goes for these one-star reviews. First, directly contact the reviewer if possible. This keeps things private for the time being and allows you to resolve problems 'outside of court'. Offering to send a replacement will work for some customers, but for others you will often have to refund their money (they keep the product).
This can become a balancing act, by sending a replacement you are out another unit and not entirely guaranteed they will remove or revise their review. Most people who accept a replacement will hold up to their end of the bargain, so this typically isn't a problem. Just make sure the unit arrives in working order.
If they remove and revise their review, fantastic. If not, politely remind them a week or two after sending the product, some people will honestly forget. Finally, if no review is left, keep their contact information in a separate database to keep them on a blacklist. You're not going to want to deal with these customers in the future.
Publicly address the review
If the above did not work, it's time to take things public. Below each review, users have the ability to leave a comment, regardless of whether you're a buyer, seller, or manufacturer. Manufacturers, however, have the benefit of having their comment highlighted and prominently displayed as seen below.
In this comment, one of the best routes to take is to reach out again, apologizing for their experience and leaving contact information so you can resolve the situation. If applicable, state the reason why they may have had a negative experience. For example, Charcoal Companion sold Himalayan Salt Blocks, which are used to cook on and add flavor to food. They ran into a problem with third party sellers distributing dangerous counterfeit products. Charcoal Companion left a very well thought out reply, which can be seen in the screenshot above.
Get Amazon involved
Rarely does Amazon remove product reviews, but it does happen and it is possible. The review must go against the community guidelines, be unrelated to the product, such as the seller's communication, or have the criteria listed below:
Inappropriate Content
Hate Speech or Offensive Content
One word reviews
Promotion of Illegal Conduct
It all boils down to whether or not the review is actually helpful to potential buyers. If the review isn't helpful, or has any of the criteria above, Amazon will usually remove it. To get in touch with Amazon, hit the 'Report Abuse' text to the left of the negative review on the product page or contact Amazon directly through seller support. If contacting through seller support, you should be given some basic information to include, if not, include the ASIN at minimum.
Unfortunately, in the end, the negative review may not be removed. There's no telling what Amazon will do and you could just be screwed. The key is prevention and if you're following the tips above, you should be fine for the most part. Focus more on the product and the service beforehand, so you don't have to deal with the negative reviews and criticism after the fact.